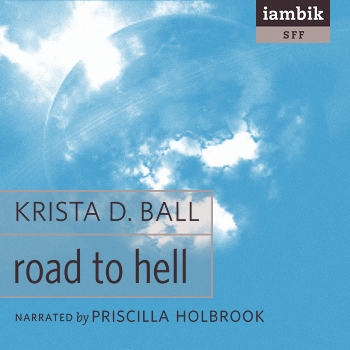 Road to Hell
Narrator:




Publisher:




Proof-listener:

Mary McCullough



Length:

4:47:36



File Size:

~ 274 MB



Share:

Sample:
Buy from Audible:
Description
Captain Katherine Francis is about to disobey every Ethics Law the Union of Planets throws at her. After the Union's enemy destroys her home planet and murders her family, she makes the decision to bring an end to the war—whatever it takes.
When an opportunity arises to ally with the neutral Alliance and turn the tide of war, Katherine throws aside her moral code, partners with a known spy, and risks sacrificing the very core of who she is. And when faced with choosing between her conscience and stopping the bloodshed, she realizes that, either way, she'll lose.
First Line
"This is the worst alcohol I've ever tasted."

Reviews
I really liked this book. The characters are well written and I especially like Captain Francis. She is strong but yet still very human. The story itself keeps you turning pages to find out what happens. Even if you're not a fan of this genre I would recommend this book. -- amazon user review
More Metadata!
Iambik Audio ISBN:
9781926673998
Iambik Audio Publication Date:
Mar 18, 2012
Print ISBN:
9781606592878
Print Publication Date:
Dec 6, 2011
Audio Distribution Rights:
Worldwide
Keywords/tags:
alliance
,
conscience
,
ethical
,
home planet
,
murder
,
spy
,
war