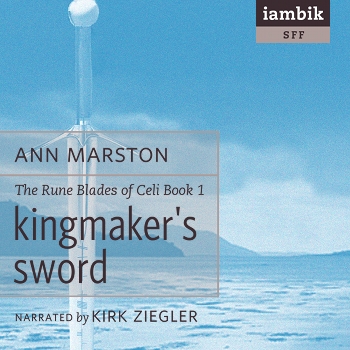 Kingmaker's Sword (Book 1 of the Runeblades of Celi)
Narrator:




Publisher:




Proof-listener:

Linda Andrus



Length:

11:12:51



File Size:

~ 930 MB



Share:

Sample:
Buy from Audible:
Description
Son of a Lost King The Skai and the Tyr were one people long ago. But that day is lost in the mists of time. And now the Skai have sent a warrior to find the Rune Blade that could slice through the darkness of blood and violence that had fallen across their land.
A warrior as beautiful as she was fierce. She returned my Tyran glance with a Skai boldness all her own. "And when you find the lost prince that has the sword you seek, " I asked, "Will you marry him?"
"I might, " she said. "I might have to kill him."
I looked down at the blade that lay as bright as a promise in my hand. And the adventure that was to transform my life began…
First Line
He dreamed again of the Swordmaster.

Reviews
"This is an exceptionally well-done Celtic fantasy....a multiple-layered prince-in-disguise story...a lively mix of action, romance and cultural details. This one grabbed me from the start." — Locus
"Tolkien fans take note! Kingmaker's Sword has the spirit and the heart of Tolkien in it." — Bookends
"With Kingmaker's Sword, a beautiful and potent new voice enters the world of fantasy. Gleaming swordplay meets timeless romance in a novel of shimmering extremes." — Mike Resnick, author of Stalking the Unicorn
"Ann Marston brings to life a fascinating medieval world of magic and mayhem, of love and honor, and of complex, engaging characters." — Adventures of Sword and Sorcery
"Kingmaker's Sword is a fresh, highly entertaining tale, engagingly written. And the best part is that there's more to come in the saga." — Sasha Miller, author of Ladylord.
More Metadata!
Iambik Audio ISBN:
9781927472279
Iambik Audio Publication Date:
Jan 08, 2013
Print ISBN:
9780061056291
Print Publication Date:
Jun 19, 1996
Audio Distribution Rights:
Worldwide
Keywords/tags:
action
,
adventure
,
celtic
,
clan
,
evil
,
fantasy
,
gaelic
,
healer
,
hero
,
justice
,
magic
,
Romance
,
scifi
,
swashbuckeler
,
villain